First a quote:
"You'll never change your life until you change something you do daily. The secret of your success is found in your daily routine." – John C. Maxwell
Good morning and happy Monday!
"Character is the ability to carry out a good resolution long after the excitement of the moment has passed."             Cavett Robert
Here we are, on the tenth day of 2022.  I begin with this question, "How are you progressing with your New Year's resolutions?"
This question assumes, of course, that you made a personal commitment to change some behavior(s) or habit(s) in 2022.  According to research, from a recent survey done by Medifast, about half of us made one or more resolutions to change ourselves for the better in the coming year.
Unfortunately, similar research also predicts many of us have already given up on our resolutions less than two weeks into January. Additionally, 85% of us will give up on our commitments to improve within the next 30 days.  At year-end, only 8% of those who made resolutions will have experienced success and met their goals and objectives.
This reality is extremely discouraging for most of us, and I suspect it is also the reason that an estimated 50% of the population doesn't bother with making such resolutions. Many people may avoid setting goals of any kind. We think to ourselves, "why bother?" when the research clearly suggests that making improvement resolutions is so futile.
While the dismal statistical success rate of past New Year's resolutions may seem daunting; I would like to propose potential solution to consider, that could help make our lofty New Year's goals seem a bit more obtainable. Using a tracking mechanism can be source of success for all of us to consider when striving to change a habit, accomplish a goal, or experience more success with our resolutions.
I want to share a simple, but powerful, technique often attributed to comedian Jerry Seinfeld. * The technique has been nicknamed, "Don't Break the Chain." The story, as I know it, goes like this:
A young aspiring comedian once asked Mr. Seinfeld for his advice on how to launch a career in the industry. Jerry reportedly told the young man to write a joke or something funny every single day without exception. The habit of writing jokes every day would help him grow not only his repertoire of jokes, but his skills as a comedian that would pay dividends over time.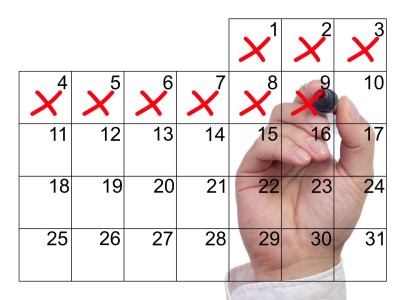 The second piece of advice was to track his progress on a calendar, placing a large red "X" on each day of the calendar that he successfully wrote a joke or something funny.  When strung together in consecutive fashion, these red "X's" would create a "visual chain" as a way of measuring and his success. He would be able to "see" his progress, or lack of it, every day. The goal is to not "break the chain."
We know from science that our bodies are treated with a hit of dopamine when we do something that "feels good."  That dopamine becomes a motivation for us to continue repeating that behavior. This is true for both bad behaviors/habits and good behaviors/habits. This is largely why many of us live with a "see a cookie – eat a cookie" approach to life. We love the sensation of newly released dopamine racing through our body… it feels good, and we want more of that good feeling.
Creating this "visual chain" of red "X's" will become more difficult to break the longer it gets; providing you with even greater amounts of dopamine and motivation to continue.  Research also suggests it takes people between 30 and 90 days to create a new, lasting habit.
My unsolicited advice:
Start small – pick a small behavior that is important, related to your goals, and not overwhelming. When starting this process, it is important to experience success so that you begin to trust yourself and your ability to follow through on personal commitments.
Get a calendar – begin marking your "X's" today! Don't Of course, in today's digital world, you can use any kind of calendar that works for you. The ability to see "your chain of X's" is an important part of this process. You will need to feel the dopamine when you mark your X each day. Personally, I have decided to experiment with an app on my device called "Momentum." I'll let you know how it works for me.  There are many others available.
Don't break the chain – Set a goal for how long you're able to go without a break in the chain.
Don't give up – a break in the chain doesn't mean it has to be the end of the chain.
Seek improvement, not perfection – most of us are easily discouraged when we hold ourselves to a standard of being perfect. Set a goal to be better every day in a every way, not to be
You can do this! I look forward to hearing about your success!
William Thackeray said, "Successful people aren't born that way. They become successful by establishing the habit of doing things unsuccessful people don't like to do."
How will you live, love, or lead, differently, or better, this week?
With love, sincerely,
Bryan Yager
208.376.1701
"Expanding Your Capacity for Success"
*In doing research for this article, I was unable to confirm any connection to the immensely successful sit-com star. While an accreditation may be valid, it is possible the story of it being Seinfeld's creation may be nothing more than an urban myth. Either way, it is a powerful concept.
Related Articles:
Do you know someone who might benefit from this weekly leadership minute? If so, please feel free to pass along the subscription link below:
Click here to subscribe to Monday Morning Minute.
Bonus Quotes:
"When you choose a habit, you also choose the results of that habit." – Zig Ziglar
"Tis easier to prevent bad habits than to break them." – Benjamin Franklin
"Habit, like gravity, never takes a day off." – Paul Gibbons
"The chains of habit are too small to be felt until they are too strong to be broken." – Samuel Johnson
"Old habits are strong and jealous." – Dorothea Brande
"It seems, in fact, as though the second half of a man's life is usually made up of nothing but the habits he has accumulated during the first half." – Fyodor Dostoevsky
"Habit is a cable. We weave a thread of it every day, and at last we cannot break it." – Horace Mann
"If you are going to achieve excellence in big things, you develop the habit in little matters. Excellence is not an exception; it is a prevailing attitude." ― Colin Powell
"You leave old habits behind by starting out with the thought, 'I release the need for this in my life." ― Wayne Dyer
"I have learned that champions aren't just born; champions can be made when they embrace and commit to life-changing positive habits." ― Lewis Howes