First a quote: "If you're not serving the customer, your job is to be serving someone who is." – Jan Carlzon, Former CEO, SAS
Good morning and happy Monday!
First a bold statement, "We all have customers!"  Well, OK, there might be a rare exception or two out there somewhere in the world, but I would argue if you're employed, you have customers, even if the only customer you have is your boss. 
I spent most of my early career working at the corporate headquarters, of what was at the time, one of the country's largest and best run regional food and drug retailers. It was there that one of my mentor's taught me the importance of customer service in a job that had little to do with our cash-paying customers.
This mentor was tough, stern, and a man of very few words.  He taught me the following: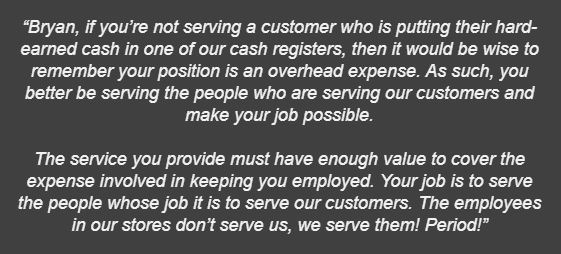 One of my partner organizations calls this concept "the business within the business." If you work in a corporate overhead role, your business is to serve the business. Think of it this way, every business has two types of customers. First, there are the external customers, the people who buy your organization's products and services. Those are the customers who pay our salaries, buy new equipment, build new stores or facilities, and fund our retirement plans. They make the business possible.
Second, there are the internal customers. These people are either upstream, or downstream, from you and your department; they use your departments products and services in a way that makes it possible to serve the external customers. For example:
If you're in IT, your business within the business is making sure the organization has the technical, hardware, systems, applications and computers to run the business. Your internal customers are anyone in your organization who uses technology. 
If you're in HR, your business within the business is making sure the organization has the human resources necessary to run the business, today and in the future. Your internal customers are likely to be not only the entire management team, but all employees. 
Plug in your department or role here, you get the idea!
By the way, this concept applies to governmental and non-profit organizations as well. To translate briefly, if you're not serving a citizen or taxpayer, you better be serving someone who is. The concepts are the same. If you're an overhead expense, how will you insure you're adding more value than your position costs to maintain?
Bottom line, do you know who your customers are? Does your team have the proper mindset about who is serving who?  Thinking about your department's business within the business, I suggest you and your team set aside time to discuss the following questions in the near future:
Do you know who your customers are? Today? Tomorrow? In 10 years? 
Are their needs changing? If so, in what ways?(It is safe to assume, if your external customer's needs are changing, your internal customer needs are likely to change as well.) 
Is your department meeting, or exceeding, your internal customer's current needs and requirements? How do you know? Have you completed a needs assessment recently? 
Seek customer service feedback from your internal customers on a regular basis. Consider asking: What can our team/department do: More of? Less of? Start doing? Stop doing? 
Is your team ready to support the changing needs of your internal customers?
As always, how will you live, love, or lead, differently, or better this week?
Sincerely,
Bryan Yager
208.376.1701
 
"Expanding Your Capacity for Success"
Do you have 60 seconds to offer feedback on this week's edition? I would be grateful!
Do you know someone who might benefit from this weekly leadership minute?  If so, please feel free to pass along the subscription link below:
 
Click here to subscribe to Monday Morning Minute.
Bonus Quotes:
"We don't want to push our ideas on to customers, we simply want to make what they want." –

 

Laura Ashley 
"A brand for a company is like a reputation for a person. You earn reputation by trying to do hard things well." –

 

Jeff Bezos 
"Customer service shouldn't just be a department; it should be the entire company." –

 

Tony Hsieh 
"Instead of focusing on the competition, focus on the customer." –

 

Scott Cook 
"Good customer service costs less than bad customer service." –

 

Sally Gronow 
"The more advocates you have, the fewer ads you have to buy." –

 

Dharmesh Shah 
"Service, in short, is not what you do, but who you are. It's a way of living that you need to bring to everything you do if you're to bring it to your customer interactions." –

 

Betsy Sander 
"Happy customers are your biggest advocates and can become your most successful sales team." –

 

Lisa Masiello