First a quote: "Life's challenges are not supposed to paralyze you, they're supposed to help you discover who you are."– Bernice Johnson Reagon
One day a long time ago, our teen-aged son came home from school and asked, "Dad, people keep asking me what I want to be when I grow up; am I supposed to know the answer to that question?"
That was one of the many times, as a father, I felt so entirely inadequate and woefully short of any insightful wisdom. My mind raced looking for the correct words, and all I could say was "I don't know, I was almost 40 years old before I could answer the same question." Truth be told, my answer to that question has changed several times since.
I suspect most people have grappled with that same question at some point in their lives, maybe even multiple times. The search for purpose and meaning is one of life's most difficult challenges. Sometimes, it takes a bit of trauma to bring clarity and a clearer focus on what matters most.
In 1999, my good friend Bill Gillispie seemed to have life by the tail. He was a rising star in the business world, he was living the good life and loved to party in the extreme. Bill had a reputation for living large, big parties and having too much fun.
Then came the doctor's diagnosis, "Bill, you have Multiple Sclerosis!"
In one short trip to the doctor's office Bill's world turned dark, upside down and filled with questions, almost all of them without answers. A difficult divorce followed not long after and the good life as Bill knew it, seemed to be in the rear-view mirror.
As anyone whose life has been directly, or indirectly, affected by Multiple Sclerosis (MS) will tell you, the path forward is not easy. MS is cruel. For most, it is a progressively debilitating disease that is both unpredictable, and for now, has no cure.
While Bill faces many daily challenges, he will tell you he is one of the "lucky victims" of MS. For so many, it is severely debilitating, and even life-ending. For Bill, his most common symptoms involve the loss of control of the entire left side of his body including hearing and seeing through his left ear and left eye. Walking and maintaining his balance can be difficult. Even his ability to control his bladder has caused him to "pee his pants" on multiple occasions.
And now, the focus of today's missive; finding meaning in life through difficult challenges and trauma.
If you were to ask Bill today, more than 22 years after his MS diagnosis, he would tell you MS has been a blessing in his life. In fact, he would most likely tell you MS may have even saved his life!  His life had not been headed in a good direction prior to his diagnosis.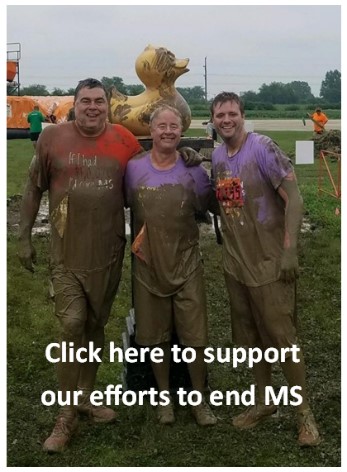 Out of that darkness however, Bill found purpose and meaning through serving others and raising money to end MS. He mentors recently diagnosed people, serves on the MS Board and recently started a new group focused on people of color with MS.  He has a heart to serve others and to be a positive force for good. MS, as awful as it is, has provided Bill with purpose, direction and meaning. While serving others, Bill also discovered you can have a successful business career.
It is possible to be a victim of life's cruelties without suffering from a victimhood mentality. For many people, the struggles of life can provide direction, meaning and purpose.
Since 1999, Team Gillispie has raised more than $2.1 million dollars for MS research, services, and support for those whose lives have been afflicted by Multiple Sclerosis.  The money raised has funded research resulting in impressive progress over the last several years. While there is still no cure, medications are now available to help slow the progression of the disease in many people.
Because of that progress, Bill himself no longer needs to give himself a daily injection and millions of others affected by MS have a place to go for help, guidance, and services.
Bill found his life purpose through a terribly cruel disease. The world is full of opportunities just waiting for you to awaken your passion and purpose in life. You don't need to be diagnosed with MS, or experience another of life's cruelties to make a positive difference in the world.
Everyone can make a difference in the world, and everyone should try. Ronald Reagan said it well, "We can't help everyone, but everyone can help someone."
Who will you serve this week?
Sincerely,
Bryan Yager
208.376.1701
"Expanding Your Capacity for Success"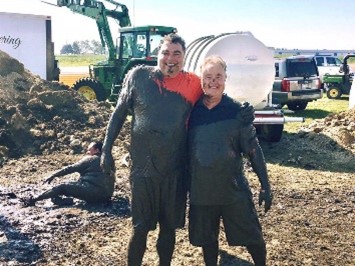 PS: Bill & Gretchen, thank you for being who you are. Thank you for choosing to be leaders in your community & the world and for being willing to serve countless others in their time of need. You are both wonderful examples of how to turn life's challenges into something positive. You are an inspiration to me and so many others. I am honored to call you friends.
I love and appreciate you Bill!
Bonus Quotes Below
Do you know someone who might benefit from this weekly leadership minute? If so, please feel free to pass along the subscription link below:
Click here to sign up for my weekly leadership message entitled Monday Morning Minute.
Bonus Quotes:
"Struggles not only make us into stronger, better and wiser people, they also let us learn more about ourselves and our purpose in life." – Auliq Ice
"Every struggle in your life has shaped you into the person you are today. Be thankful for the hard times, they can only make you stronger." — Keanu Reeves
"The two most important days in life are the day you born and the day you find out why." – Mark Twain
"Life is not primarily a quest for pleasure, as Freud believed, or a quest for power, as Alfred Adler taught, but a quest for meaning. The greatest task for any person is to find meaning in his or her own life." – Victor E. Frankl
"Those who overcome great challenges will be changed, and often in unexpected ways. Struggles enter our lives as unwelcome guests, but they bring valuable gifts. And once the pain subsides, the gifts remain. These gifts are life's true treasures, bought at great price, but cannot be acquired in any other way." – Steve Goodier
"Suffering presents us with a challenge: to find our goals and purpose in our lives that make even the worst situation worth living through." – Victor E. Frankl