First a quote: "We all live on the same planet, but we live in different worlds." – Unknown
I have been writing these Monday Morning Minute missives for more than two years now. It is something I enjoy doing, and for the most part, look forward to.  The weekly exercise helps me to articulate what I have learned, and continue to learn, about the complex subject of leadership, at least as seen through my experiences and admittedly narrow worldview.
My desire is help others think about what they believe to be true about effective leadership. Perhaps more importantly, I aspire to help others consciously choose behaviors that might help them love, live, and lead differently, or better, each week; and perhaps in some small way, result in a better world. I hope to challenge each of us to be our "best selves," as leaders and as people.
This week was different. While there are often weeks when I grapple with choosing a topic, finding just the right quote, or the "perfect" picture for the title page, this week I felt a tad overwhelmed and a bit unworthy of the challenge facing all of us. Not only did I not look forward to picking a theme or topic, for the first time, I dreaded it. Every thought, every idea, every concept felt almost too trivial and woefully inadequate in such a time as this.
Like so many other millions of people in this country, and around the world, I have felt an entire spectrum of emotions recently from outright anger, depression, guilt, and shame, to feelings of futility, hopelessness, and despair. (By the way, these are predictable emotions associated with the human grieving process. That is perhaps an important topic for another day. Most of us are grieving in ways big and small, even if we do not recognize our emotions as normal in times of pain and grief.)
So now to this week's quote, "We all live on the same planet, but we live in different worlds." Yes, of course it is true we all live on the same planet. Most of you reading this missive also live in the same country. And yet, we each live in vastly different worlds with mostly different realities.  We assume our individual realities are, or should be, the same.  Our individual belief systems are built on our unique and personal realities. We have different beliefs on different topics because we have different life experiences, yielding different realities. We are truly from different worlds.
 
"For, in the final analysis,
our most common link is that we all inhabit this small planet.
We all breathe the same air. We all cherish our children's future.
And we are all mortal." –

 
John F Kennedy 
We then make our differing convictions worse by choosing to listen to myopic news media sources that only serve to reinforce our limited biases and viewpoints. We tend listen to, and like, podcasts by people who share our viewpoints. We "like" and share posts which reinforce our biases, both conscious and unconscious. This then reinforces our certitude that our viewpoint is the only true and valid perspective.
Click here to read: Whose Truth is More True?
Click here to read: Dreaming Bigger… is Now the Time?
Click here to read: Viewing the World Through Scratched Lenses
I appreciate, Turkish author and playwright, Mehmet Murat ildan's, quote on this topic:
 
"You always have two worlds: The one you are in right now
and the one beyond your world!
The only way to live a full life is to discover the latter world continuously!"
― Mehmet Murat ildan
I submit we must now, more proactively than ever, seek to explore and discover the worlds beyond our own personal realities and mental boundaries.  Just maybe, we should post less and read more. Maybe we should stop listening to, and supporting, myopic news outlets hellbent on promoting their own singular realities and agendas. As Stephen R. Covey said, "If we want to be understood, we should seek first to understand."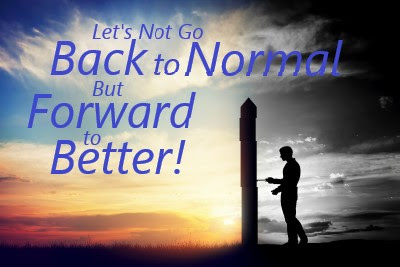 If we're going to have healthier marriages, happier families, stronger communities and organizations, and a country for which we can all be proud once again, to call America, it will take each of, and all of us, to starting thinking, acting and living differently.  Let me repeat, each of us, and all of us!
What actions will you take to love, live, or lead differently, or better, this week? If it helps you to brainstorm, here are a few actions I plan to take this week:
Organizing a mixed group of "influencers" to begin sharing experiences, realities and exploring ways to be better allies, for each other, and for a better future. (please contact me if you are interested in participating.)
Re-connecting with four friends outside my typical (and comfortable) circle.
Asking people who are different than me to help me see my blind spots and unconscious biases.
Reading (listening actually) the book

 

White Fragility; Why It is So Hard for White People to Talk About Racism
Having the courage to speak up about difficult and often uncomfortable topics.
Continuing our team's effort to raise money to feed the food challenged and the homeless.
Thank you for choosing to read this missive. Be safe. Be healthy. Choose to be your "best self" and lead others, not back to normal, but forward to better.
Sincerely,
Bryan Yager
208.376.1701
Bonus Quotes:
"It's mind-boggling how many different worlds people live in on this one planet." –

 

Richelle E. Goodrich
"Darkness cannot drive out darkness; only light can do that. Hate cannot drive out hate; only love can do that." –

 

Martin Luther King, Jr.
"World peace begins with inner peace."

 

– Dalai Lama
"We can't solve problems by using the same kind of thinking we used when we created them."

 

– Albert Einstein
"There is nothing wrong with America that cannot be cured by what is right with America."

 

— Bill Clinton
Do you know someone who might benefit from this weekly leadership minute?  If so, please feel free to pass along the subscription link below:
 
Click here to subscribe to Monday Morning Minute.