First a quote:
"You do not move ahead by constantly looking in a rear-view mirror. The past is a rudder to guide you, not an anchor you drag. We must learn from the past but not live in the past". – Warren W. Wiersbe
Good morning and happy Monday. Welcome to the first Monday of the new year. I suspect many people are returning to work today for the first time in 2020. Some even went back to the gym for the first time in a while, or at least planned to go back to the gym, until the alarm went off this morning… 😊.
January presents an opportunity to begin a new year with a clean slate and a fresh start. We certainly have an opportunity to make conscious decisions about the direction we're headed and what we will bring along for the trip. This is a great time to think about what anchors are holding us back, or the baggage we're dragging along with us through life. Perhaps it's time to clean out our mental trunks and lighten our loads. Perhaps we should turn our focus from the rearview mirror to the road ahead.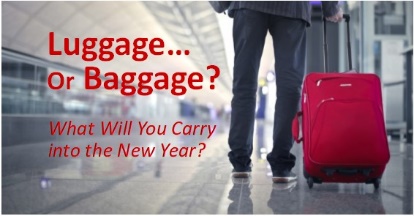 Click here to read: Luggage or Baggage; What Will You Carry into the New Year?
Leadership is (or at least should be) focused on the future. Where are we headed? Where are the opportunities ahead and what obstacles can we anticipate? What detours might we come across on the journey ahead? Are we packed and ready for the trip? What should we take? What should we leave behind?
I would argue leaders (like safe drivers) are wise to be aware of what is in their rearview mirrors. However, most of the time, their eyes are looking forward and ahead, perhaps occasionally side to side. There are many reasons why windshields are large and panoramic and rearview mirrors are small; this seems to be a powerful metaphor for leading one's company, function or department or perhaps even living one's career or personal life.
As I look out my windshield into this coming year, certainly I see metaphorical potholes and obstacles and I see exciting opportunities, discoveries yet to be made and adventures to be lived. Looking ahead, I'm also aware of the need to jettison some of my mental baggage from the past and cut free the self-made anchors which are holding me back and limiting my forward progress.
What about you? What is holding you back? I'd like to suggest you look inside first before looking at the outside world. Are you in the driver's seat or a passenger seat? Are you ok with your answer?
How will you live, or lead, differently or better this coming year?
Happy New Year and all the very best in 2020! Sincerely,
Bryan Yager
208.376.1701
"Expanding Your Capacity for Success"
Do you know someone who might benefit from this weekly leadership minute?  If so, please feel free to pass along the subscription link below:
Click here to sign up for my weekly leadership message entitled Monday Morning Minute.
Bonus Quotes:
"Life can only be understood backwards; but it must be lived forwards." – Soren Kierkegaard
"In the business world, the rearview mirror is always clearer than the windshield." – Warren Buffett
"If life is just a highway, then the soul is just a car. And, objects in the rearview mirror may appear closer than they are." – Jim Steinman
"Your future starts today. Don't go through lfe looking in the rearview mirror. Your life is filled with possibility." – Joel Osteen
"I have a really small rearview mirror in my life. I look at the rearview mirror for memories and learning experiences, but I've got a big front windshield and I'm looking at right now. I've got so many projects on my plate." – Pat Croce
"The hood ornament on your car is for telling you where you are going. The rearview mirror is for showing you how good look while you're getting there." – David Lee