First a quote:
"The soft stuff is always harder than the hard stuff." – Roger Enrico, Former CEO, PepsiCo
I have facilitated countless change management workshops over the years. It is one of my favorite topics and has been one of our more popular workshops. I consider myself to be a passionate student on the subject; always studying, reading, learning, and growing in this area.  It is a fascinating topic.
The research on failed change initiatives is significant. Research from McKinsey and Company shows that 70% of all transformational change efforts fail. According to 2008 research from IBM, the need to lead change is growing, but our ability to lead others through change is shrinking.
My experience with major change efforts suggests change management, as a leadership responsibility, is not the most concerning issue. Most change initiatives, in which I have been a part, were fairly well managed and, in most cases, poorly led. Organizations today need more effective change leadership, not more change management.
What is the difference? Change management is about the tasks, things, buildings, equipment and processes involved; what will start, stop, change, be replaced; what will be different, etc. Change management is about anything and everything that can be scheduled on a Gantt chart, planning document or calendar. There is usually a start, a stop and a process and sequence of events to be managed.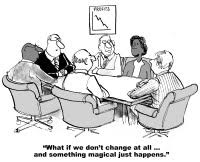 Change leadership, on the other hand, is about the people. The soft stuff! It is about the emotional transition people must make in connection with significant change.  We're talking about a psychological journey of sorts through predictable stages of change. Change leadership is about helping others navigate through normal and natural reactions to change. As much as we may want to tell others to simply "get over it" and move on, people must go through it. Moving through the emotional stages of change is also a process. These psychological transitions cannot be scheduled, planned, or put on a Gantt chart. It is about the soft stuff and as Roger Enrico said, "The soft stuff is the hard part."
Let's take relocating your family to a new home, perhaps in a new state, as an example. The change management list will be long, and perhaps feel overwhelmingly complex. A brief sampling of the list might include: finding a new home or apartment, getting out of your current lease, finding new service professionals including, barbers and beauticians, dental, medical and insurance providers, researching schools, renting a moving truck , forwarding your mail, getting a new driver's license and updating utilities companies. Again, just a short sampling of a very long list to be managed.
Change leadership, also just a sampling, will include supporting your family while informing friends and relatives of the move, saying good-bye to neighbors, sorting, packing and perhaps disposing of favorite possessions, finding new friends and new social gatherings like churches, clubs or sporting groups. It will require going through loss and separation while still working through the uncertainties of your family's new environment and looking forward with anticipation. I have seen research placing home relocation as one of the top 10 sources of personal stress, often straining marriages and other family ties.  If you have ever relocated teenagers, you know first-hand what I'm referring to.
I'm not suggesting change management, as a skill and leadership responsibility, is unimportant, clearly it is extremely important to the success of any change event. I am, however, suggesting change leadership doesn't get nearly enough attention and often gets short shrift compared to the time and effort invested managing the hard stuff. Always remember, the soft stuff is the hard part when leading change.
Bonus Quotes Below.
How will you live and lead differently, or better, this week?
Do you know someone who might benefit from this weekly leadership minute?  If so, please feel free to pass along the subscription link below:
Click here to subscribe to Monday Morning Minute.
Have a great week!
Bryan Yager
208.376.1701
"Expanding Your Capacity for Success"
Bonus Quotes:
"The greatest danger in times of turbulence is not the turbulence – it is to act with yesterday's logic." – Peter Drucker
"If you do not change direction, you may end up where you are heading." – Lao Tzu
"Change cannot be put on people. The best way to instill change is to do it with them. Create it with them." – Lisa Bodell
"Few things are more important during a change event than communication from leaders who can paint a clear and confidence-inspiring vision of the future." – Sarah Clayton