First a quote: "When there is hope in the future, there is power in the present…" — Zig Ziglar
As a collegiate sports enthusiast, I love this time of year.  My two favorite seasons include college football and the basketball playoff season, otherwise known to most in the US as March Madness. While I usually make it a practice to avoid sports metaphors and examples in my workshops, articles and this blog, I'm making an exception today. We can learn important leadership lessons from the world of sports if we're willing to pay attention, and perhaps even enjoy the lessons.
Basketball games are often won and lost in the final few minutes, if not seconds, which makes most games very exciting to watch, at least for fans of the sport.  It is during the final minutes of close contests that I love watching, studying and learning leadership lessons from elite basketball coaches everywhere.  If you also enjoy watching basketball, the next month will be loaded with fun opportunities to learn important leadership skills, practices and approaches.
Please know I have never been a basketball coach, nor have I ever played one single basketball game at any level. I don't pretend, in any way, to be any kind of basketball expert.  I am, however, a passionate student of leadership in all its various forms and applications.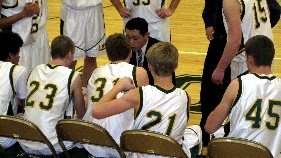 For today's thought, please imagine you personally are the coach of a top ranked basketball team.  You're in the final minutes of a championship game. Unfortunately, your team is trailing by 10 points and, there are only two minutes remaining.
You call for your last full timeout and now have 60 seconds to coach your team to a win. You're probably going to think strategically about what moves or plays your opponent may make when they return to the floor. With those thoughts in mind, you must draw up, and thoroughly explain at least one play, if not two or more, to your nearly exhausted team. You must also address the mental state of your team. That mental state is the focus for today's Monday Morning Minute.
No matter what has happened in the past, whether earlier in the season, a week ago, or in the last three minutes, I suspect winning coaches want their team to be laser-focused only on the next 120 seconds. In fact, maybe the focus is almost entirely on the next few seconds of the very first play out of the timeout. Certainly, leaders want to build positive momentum.
The focus must be on the present and the future… not the past! When behind on the scoreboard with time running out, winning coaches want maximum"power in the present", the here and now!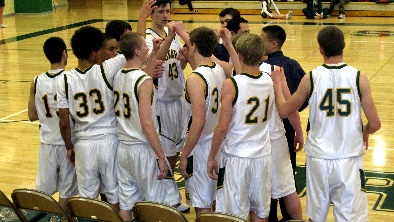 When the timeout ends, winning coaches want their team to believe they can indeed come from behind to win the game. The players must believe, and they must feel confident in themselves, both individually and collectively as a team. They must be filled with hope and that is the coach's leadership responsibility.  If even one player on the team believes the situation is hopeless, the team will likely lose.
I believe Zig Ziglar had it right. When there is hope in the future, even if it is hope for the next 120 seconds of a ballgame, there is power in the present! If we want the best from our teams, as leaders in the business world, or coaches of a game, we must be creators and dispensers of hope, confidence, positive energy and belief!
The way I see it, when our teams "take the floor" when the chips are down, their mental state is as important, if not more so, than the strategic plays and plans we draw up as leaders and coaches.
And, as an afterthought, perhaps another topic for a future MMM; sometimes our teams work their very hardest and expend the most energy in a losing, or disappointing effort. I have noticed winning coaches often use losses to build their team up, not tear them down. They seem to continually build hope and confidence for the future.
Looking forward, how will you create a stronger sense of hope and confidence in your team?  How will you create "power in the present" this week?
And as always, how will you lead differently, or better, this coming week?
Bryan Yager
208.376.1701
"Expanding Your Capacity for Success"
Do you know someone who might benefit from this weekly leadership minute? (I promise no other mail, spam or solicitation.) If so, please feel free to pass along the subscription link below:
Click here to sign up for my weekly leadership message entitled Monday Morning Minute.